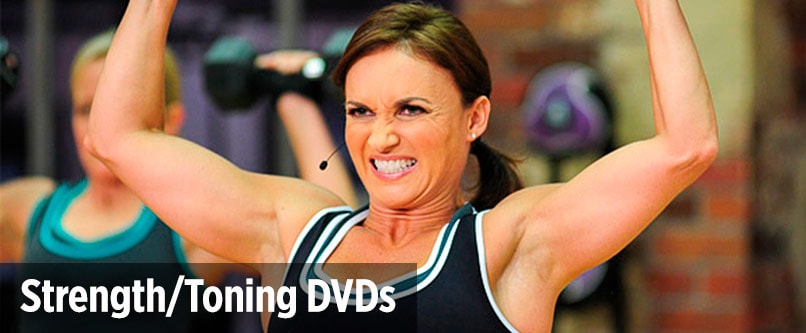 Cathe Friedrich Strength & Toning Workout DVDs
If you want to get the best strength training DVDs available, Cathe Friedrich is what you're looking for. This strength and toning exercise DVDs will get your muscles in the perfect shape just like you want them. We have a wide selection of strength & conditioning DVDs that will get you feeling and looking great in no time. Everything in our strength training DVD collection is filmed in an upbeat, positive, and motivating environment that will keep you enthused during and after your workout. Exercisers who have the desire to achieve a toned physique, feel and look younger, and live longer should strongly consider implementing an exercise program utilizing our cutting edge strength and toning DVDs. The unique dynamics of resistance training can result in immediate and long term health benefits that cannot be achieved through traditional aerobic exercise alone.
All of our exercise DVDs are famous for their chaptering and filming quality and with a name like Cathe Friedrich, you know the toning exercises are going to be good! For over thirty years we have been known for producing the highest quality workout and fitness DVDs in the industry. We offer one of the largest privately held fitness libraries in the world with over 300 fun and challenging workout DVDs to help you get the results you are looking for. All of our in-stock DVDs qualify for free worldwide shipping when your order totals $50 or more after coupons.
All of our workouts may also be purchased as digital downloads by going to our Cathe Downloads digital delivery store.