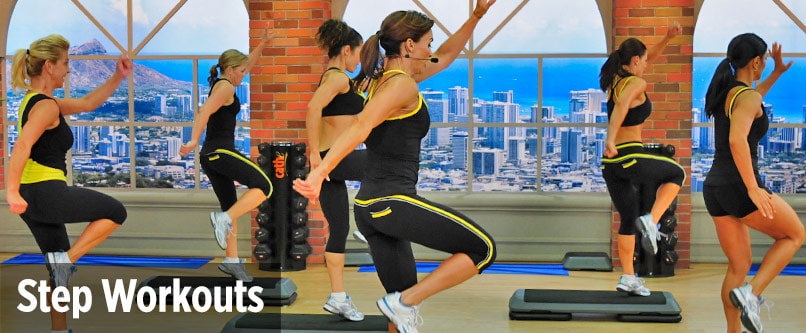 Cathe Friedrich's Cardio Step Fitness & Step Aerobic DVDs
Whether you're trying step fitness for the first time or have been doing it for years, our huge step aerobic video selection will definitely provide you with a first-rate, cardio step workout! Our step videos are challenging, strengthening, and fun!
Our step workout DVD selection has a great variety of workouts including IMAX,low-impact, body fusion, athletic step, basic step, advanced step, and more! All the videos are led by instructor Cathe Friedrich who consistently presents motivating, fun, and engaging step workouts and has produced more step aerobic DVDs than anyone. She is credited with producing one of the very first step aerobic DVDs and her step videos have been included in most of the steps sold to consumers over the last 25 years. Nobody has made more step aerobic videos or taught more step aerobic classes than Cathe.
And remember, all shipping is free on in-stock DVD orders over $50 after coupons.
All of our workouts may also be purchased as digital downloads by going to our Cathe Downloads digital delivery store.