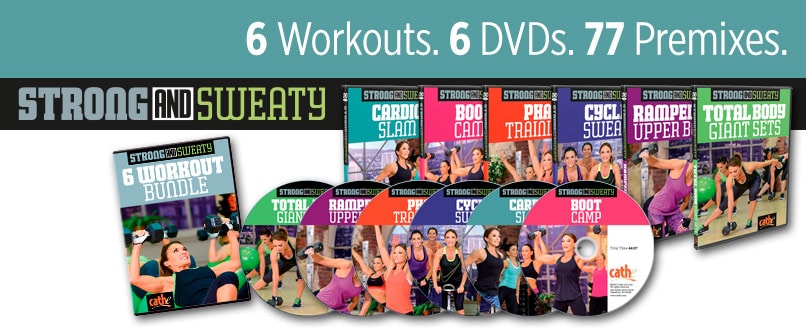 Order Cathe Friedrich's 6 Advanced DVD Workouts:
The Strong and Sweaty DVD Series + Cycle Sweat!!!
Overview
Cathe's Strong and Sweaty DVD series is a collection of 6 exercise DVDs that are geared toward the advanced exerciser. In this series, we explore multiple types of training methods to shock and challenge your muscles while also providing the cardio factor needed for a complete, well-rounded routine. The workouts in this series will challenge your entire body and will also put your physical endurance to the test! The varied equipment, rep patterns, and techniques will ensure that maximum calories and body fat are torched while you also focus on building and shaping lean muscle mass.
Modifications
Although the Strong & Sweaty series is geared toward the advanced exerciser, Cathe will show some modifications for some of the more difficult cardio movements. In the Boot Camp workout, Cathe shows some modification tips during the main workout program. Cardio Slam offers a premix option that includes modification blocks when more intense/high impact exercises are performed. With this premix, you will see a small box appear on your screen which will show me performing a low impact modification of the exercise being performed in the main program. As always with the weight routines, go lighter for less intensity (and or lower with your step height when applicable) and increase weight as you progress.
Premixes / Bonus Abs
77 DVD premixes are offered with these workouts to give you even more exercise options as you progress through the Strong & Sweaty series. This includes extreme premixes, time savers as well as mish moshes, and upper only/lower only options. We have also included a fun and challenging new ab routine. We all know that our core gets worked when we perform any type of exercise. We are always working our mid-sections through stabilization and challenging movements. Bonus Abs will add a touch of focused core training to the overall program. If you're ready to get Strong and Sweaty, grab your weights and your determination, and let's get started!
To order and see DVD details click on the product images below.
---
Get All 6 of Cathe's New Workout DVDs
Strong and Sweaty Discount Bundle

+

Cycle Sweat
1. 6 Workout DVDs Only - $79.97 (6 DVDs only $13.32 each + Free Worldwide Shipping)
Just Get the 5 Strong and Sweaty Workouts (No Cycle Sweat)
Strong and Sweaty Discount Bundle
1. 5 Workout DVDs Only - $69.97 (5 DVDs only $13.99 each + Free Worldwide Shipping)
Free Online Cathe Strong and Sweaty User's Guide
An online user guide with several rotations and complete workout instructions can be downloaded as a PDF or viewed on your computer. Rotations will also include our QuickSelect for OnDemand users which will automatically and instantly launch your OnDemand videos. Download now at: Strong & Sweaty User's Guide
Cathe Strong & Sweaty DVD Video Previews
Cathe Strong and Sweaty Boot Camp Workout DVD

Cathe Strong and Sweaty Cardio Slam Workout DVD

Cathe Strong and Sweaty Cycle Sweat Indoor Cycling DVD

Cathe Strong and Sweaty PHA Training Total Body DVD

Cathe Strong and Sweaty Ramped Up Upper Body DVD

Cathe Strong and Sweaty Total Body Giant Sets Upper Body

Strong & Sweaty User's Guide
You can download our Free Strong & Sweaty User's Guide that includes information about all of the Strong & Sweaty workouts as well as four workout Rotations. Download now at: Strong & Sweaty User's Guide