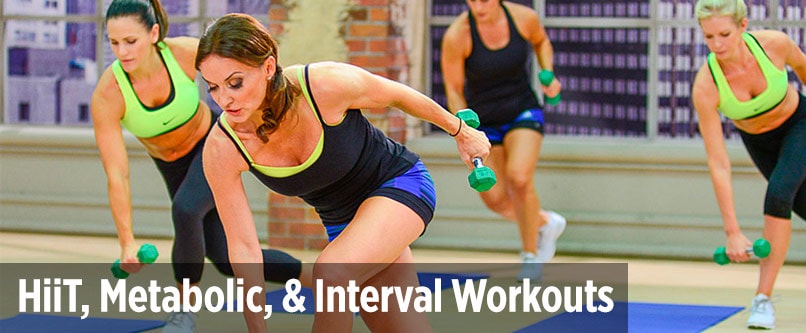 Cathe Friedrich HiiT and Interval Workout DVDs


HIIT stands for High-Intensity Interval Training and is hands down one of the best ways to burn fat without causing your body to burn your own muscle tissue. This is because HiiT utilizes a lot of fast-twitch muscle fibers and this helps to build muscle during your cardio workout, not lose it. This is important because you don't want to lose the muscles you have worked so hard to gain. HIIT is a special type of interval training that also offers the important advantage of continuing to burn fat for many hours after your workout has ended. This extended calorie burn is known as the after-burn effect. This is not true for many other types of workouts.

Though high-intensity interval training is the latest buzz in the fitness industry, we've been making HIIT workouts for many years including low impact Hiit workout DVDs as well as plyo HIIT workout DVDs. Even our early step videos had HIIT blasts as you see in our Imax workouts. Cathe has been using and teaching HIIT workouts in her classes for decades and it is this teaching experience that allows her to know which exercises to select and how to sequence each exercise to keep your heart rate in just the right zone. Few others have mastered this type of training as well as Cathe has.


For over thirty years we have been known for producing the highest quality workout and fitness DVDs in the industry. We offer one of the largest privately held fitness libraries in the world with over 300 fun and challenging workout DVDs to help you get the results you are looking for. All of our in-stock DVDs qualify for free worldwide shipping when your order totals $50 or more after coupons.

All of our workouts may also be purchased as digital downloads by going to our

Cathe Downloads

digital delivery store.