New Cathe
Perfect30
Workout DVDs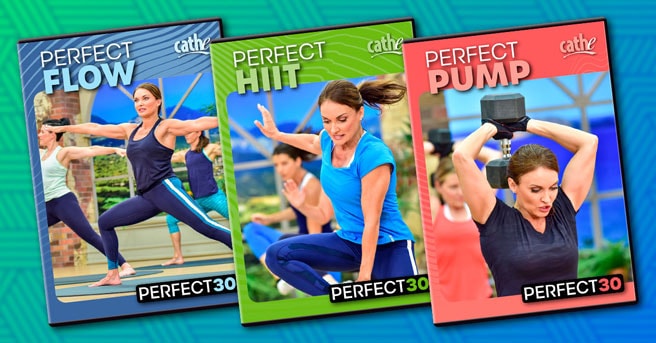 Six Cathe Friedrich 30-Minute Workouts on 3 DVDs

Hi Everyone! I'm so excited to announce my newest workout DVD series "Perfect30." What is Perfect30? It's an advanced three exercise DVD series that is a perfect fit for your fitness schedule when you're tight on time but you still want a solid, intense workout! Each exercise DVD in this series contains two 30 minute workouts that focus on the main elements necessary for a well-balanced fitness routine: strength conditioning; cardio endurance; and balance/flexibility. Each workout DVD in this series can be used as a stand-alone exercise routine or all three can be used in conjunction with one another for your own perfect workout. The routines are time-efficient but don't let that fool you, we'll be sweating and burning the whole time!




Let me tell you more about the 30 minute workouts!
Perfect Pump DVD

This Cathe DVD contains two 30 minute strength routines: one upper body and one lower body. You will challenge your muscles from head to toe as we use a mix of heavier and lighter weights to build a solid pump in each muscle group. No time for downtime in this workout! We'll keep things moving so you can get in, get out, and get pumped!

Cathe Perfect Pump Lower Body Workout DVD
Cathe Friedrich's Perfect Pump Lower Body 30 minute workout hits all angles of the legs and glutes with a mix of heavy and lighter weights. It will keep you breathing heavy, and you'll feel those muscles working hard the entire time! We will move from exercise to exercise to totally toast your lower body, and you will surely be feeling it the next day!

Cathe Perfect Pump Upper Body Workout DVD
Get ready to get heavy! This Cathe Friedrich 30 minute upper body routine builds a solid muscle burn with no huge time commitment. Each body part is hit with a series of heavy and lighter exercises. This workout moves! Tightening up on those rest periods ensures that your arms will be shaking by the time you're done!


This workout DVD also includes upper body bonus exercises, lower body bonus exercises, a core bonus core workout, and an extended stretch bonus.
Perfect HiiT DVD

This workout is all about solid, intense cardio without needing to carve out a whole lot of time. This DVD includes two 30 minute HiiT routines: one high impact and one low impact. Both workouts are advanced in nature so no matter how you "HiiT" it, you'll be sweating up a storm!

Cathe Low Impact HiiT Workout DVD
Cathe Friedrich's Perfect30 low impact HiiT workout is 30 minutes of pure intense fun. This routine is packed with new challenging low impact moves and a pumping high energy soundtrack that will keep you motivated from start to finish. But there's more... not only is this workout tons of fun but the next day your legs and glutes will be talking to from all the rapid low reaches that we do to drive the heart rate up! Those little hidden DOMS will sneak up and get you. How's that for a leg bonus.

Cathe High Impact HiiT Workout DVD
This intense, 30 minute high impact Cathe Friedrich routine will challenge your speed and stamina as we jump, jack, and sweat our way through new and exciting HIIT drills. There's no time to waste and no equipment is required, so let's get in, get serious and get the heart pumping!


This workout DVD also includes a cardio blast bonus and a stretch bonus.
Perfect Flow DVD
Perfect30 Flow contains two 30 minute active yoga-based routines that will take you through strength, flexibility, mobility, and balance challenges for the entire body! Many fitness-minded people pay close attention to their cardio and strength goals, but pay too little attention to restoring length and flexibility to their hard-worked muscles and joints. These yoga-based routines will do just that and more! These are by no means a simple stretch DVD! We will be working hard and you will break a serious sweat!
Cathe Yoga Strength and Flexibility Workout DVD
This 30-minute Cathe Friedrich routine enhances overall strength and flexibility, increases joint range of motion, and helps to reduces stress levels.
Cathe Mobility Basics Workout DVD
Mobility training is the ability to move your joint actively through its range of motion. It incorporates flexibility and strength and is a key component in assisting you in your strength training and cardio workouts. As we age our muscles get stiffer and our joints become less flexible which can lead to muscle imbalances. Cathe's Perfect30 Body Flow 30 minute Mobility Training workout helps to reduce muscle imbalances and reduce the risk of injuries by moving your body joints through a full range of motion.
This D

VD also includes an ab bonus
Not Only Does the Perfect30 Series Offer
6 Workouts
On 3 DVDs, But It Also Includes:
Bonus Abs - A bonus ab workout to keep that core tight and toned.
Bonus Extended Stretch - An extended stretch to help you lengthen and relax hard-worked muscles.
Bonus Cardio Blast - This bonus cardio blast can be added to your HiiT workouts to increase the intensity, duration, and challenge.
Bonus Pump - Add some more intensity to your Perfect Pump routine with this strength training bonus.
Premixes - All Perfect30 DVDs will have numerous workout premixes.
BONUS VIDEOs: Not all bonus videos are on every Perfect30 DVD. See the list above to see which bonus videos are on each DVD. **As always workouts are subject to change.


Perfect Flow Exercise DVD: Yoga Strength & Flexibility 31:54
Perfect Flow Exercise DVD: Mobility Basics 31:26
Perfect Flow Exercise DVD: Core Bonus 9:17
Perfect HIIT Exercise DVD: High Impact HIIT 30:49
Perfect HIIT Exercise DVD: Low Impact HIIT 30:51
Perfect HIIT Exercise DVD: Pyramid HIIT Bonus 12:01
Perfect HIIT Exercise DVD: Extended Stretch Bonus 8:17
Perfect Pump Exercise DVD: Upper Body 30:43
Perfect Pump Exercise DVD: Lower Body 30:48
Perfect Pump Exercise DVD: Upper Body Bonus 4:52
Perfect Pump Exercise DVD: Lower Body Bonus 7:39
Perfect Pump Exercise DVD: Core Bonus 9:17
Perfect Pump Exercise DVD: Extended Stretch Bonus 8:17
How to Get Free Shipping:
If your order totals at least $50 it will ship Worldwide for Free.*International customers are responsible for any import taxes or duties your country may charge
FREE Online User's Guide

An online Cathe Friedrich Perfect30 user's guide with several rotations and complete workout instructions is available to download as a PDF or viewed on your computer. Rotations also include our QuickSelect(TM) for OnDemand users which will automatically and instantly launch your OnDemand videos.




Cathe's Perfect30 Makes Working Out Fun Again!
Video Previews
Cathe Perfect HIIT: Low Impact HIIT Workout DVD

Cathe Perfect HIIT: High Impact HIIT Workout DVD

Cathe Perfect Pump: Lower Body Workout DVD

Cathe Perfect Pump: Upper Body Workout DVD

Cathe Perfect Flow: Mobility Basics Exercise DVD

Cathe Perfect Flow: Yoga Strength & Flexibility Exercise DVD